Hello !
How are you today? How was your weekend?
I want to begin this post by thanking you for all your sweet messages concerning the Christmas socks 🙂 woooow you are so sweet and I am really really happy that you liked the little socks and that some of you are crocheting some or did even crochet already some 🙂 This makes my soul sing with joy ! Thank you from the bottom of my heart 🙂
And I want to say welcome to all the new followers 🙂 Welcome to Le monde de Sucrette… My blog is yours 🙂 (Here in Lebanon when we want to say welcome to somebody we say in Arabic: My home is yours)
Today, even though it is very dark I managed to take some pics to show you some progress I've made to my ripple and show you my latest painting too…
With what shall I begin?
Let's begin with my painting : It is called : Flowers in a pitcher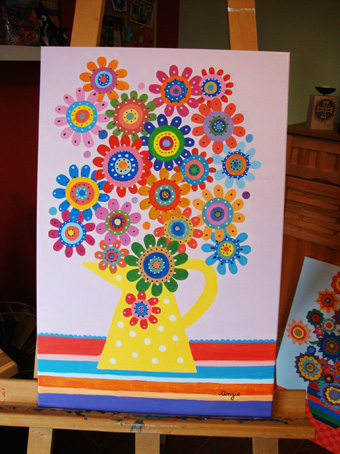 Yes, yes more flowers (I think it is the only subject I can paint 🙂 )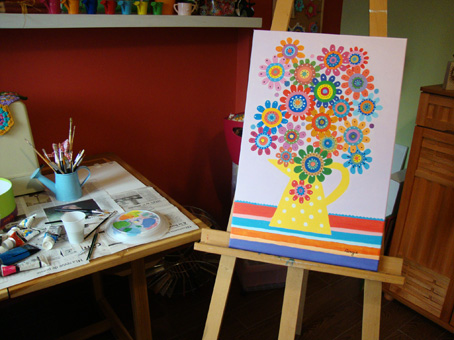 It is smaller than Flower power and the flowers are a little different … but the spirit is the same (haha)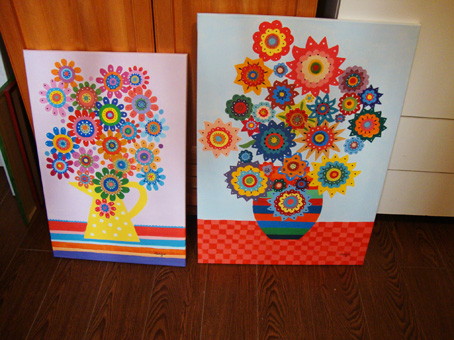 Here you can see both paintings…yes I painted in light blue the background of flower power and it transformed it totally I can say 🙂 I've made flowers in a pitcher's background in light pink… My husband suggested a black background but I did not dare …
My paintings are not something really wow but I love them…too much 😀 and the therapeutic and calming effect painting gives me is unbelievable … you should try it 😉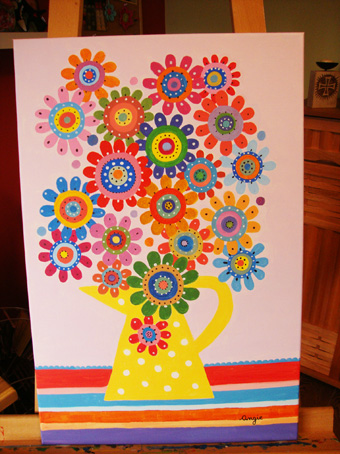 Hope I am not bothering you with these…I've already began a third one (a much smaller one ) and I can't wait to show it to you 😉
and now back to crochet 🙂
Here too, mixing colors is sooo therapeutic 🙂 Don't you want to jump into that pic?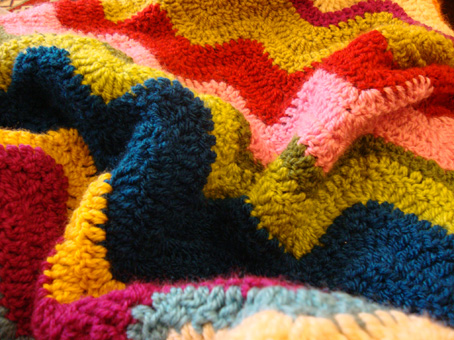 Don't you feel the softness of Ripple of happiness just by looking at this pic?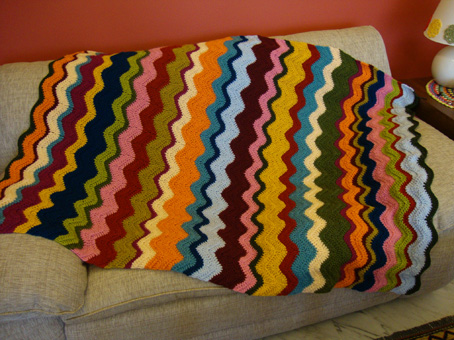 Mmmm this blanket is giving me such pleasure to crochet that I don't want to finish it at all (It is the first time I am not in a hurry to finish a crochet project )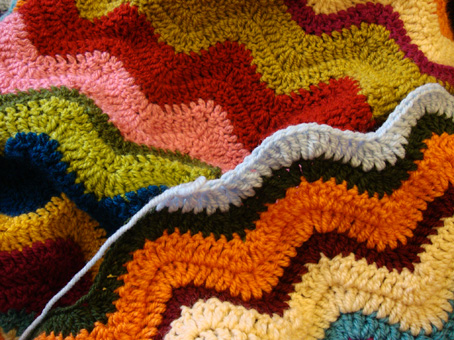 It is so warm and cosy that it is a huge pleasure to snuggle under while crocheting stitch after stitch in the cold November evenings…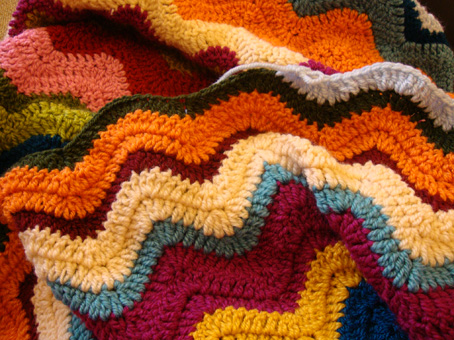 I'll leave you with this last pic (my favorite pics are close up ones) and wish you a beautiful day filled with sunshine in your heart (the weather is not helping that much in my part of the world… don't know in yours 🙂 )
Kisses,
Sucrette