I feel like I'm neglecting a little bit this blog of mine and I apologize for that….
I feel like I'm running out of time and with the children at home for their summer holidays it is quite impossible to concentrate on something for more than 5 minutes 🙂 I think you understand what I'm talking about 😉
And there is INSTAGRAM. It is so easy and so quick to post a picture with a few words and share it that …well… you end up neglecting your blog and your posts… and it is annoying me I must confess… I love this little blog of mine…I feel like it is my own home, my secret place where I can hide from all the daily "routine" stuff… A kind of escape 🙂
Well… I know I talk too much 😀 I want to show you today some pics of my past week and my actual wips … Most of these pics I've posted them already on Instagram (Sorry my IG friends 😉 )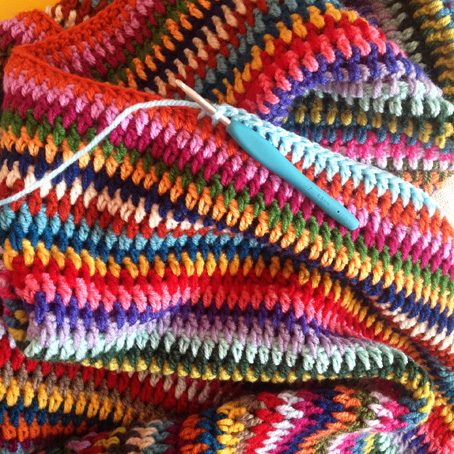 * My Vintage stripy blanket: This blanket is my stress-away wip. It is very soothing to work on and I am in love with how the colors melt together…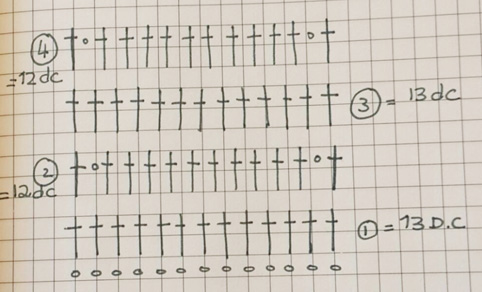 * That's why I'm sharing here its chart. Many of you asked me about this pattern. It is a little bit tricky to begin and end each row…so before beginning your blanket try the pattern on a small scale to make sure it works with you 😉 Very easy once you've made your first rows…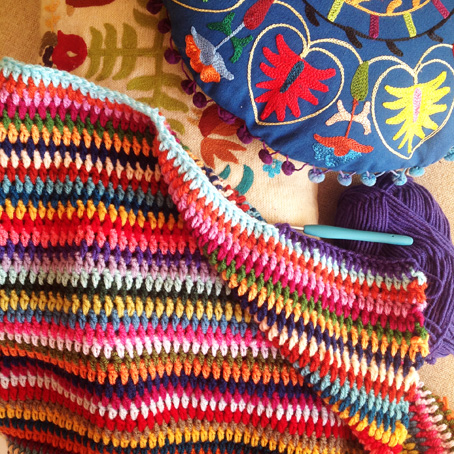 I started it with 150ch. Working it with a 4.5mm hook. I think the more chunky the yarn is the more beautiful is the effect 😉 That's my opinion 😉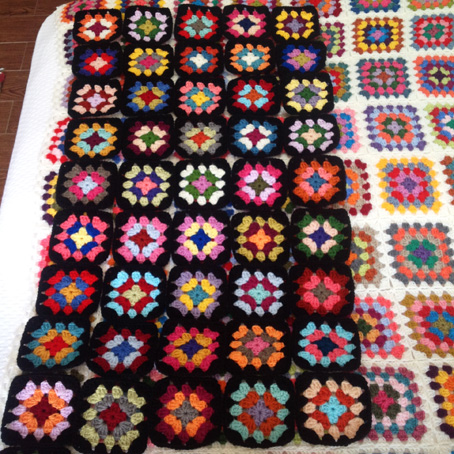 * This is the second wip I'm working on. A winter bedspread for our room. I've already made some squares and I love how they're looking 🙂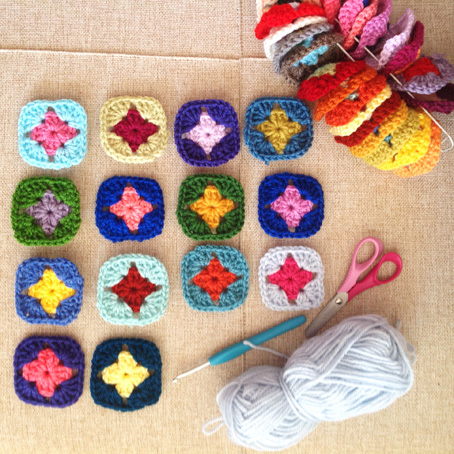 Traditional granny squares are my favorite. You know that eh? and the more I crochet them the more I have projects in my head with them… I think that my brain is full of granny squares ideas… they are everywhere in my home and I just can't have enough of them…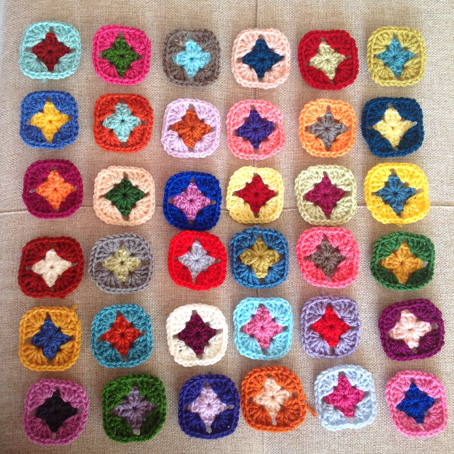 They are beautiful…don't you think? Little sweets for the soul 🙂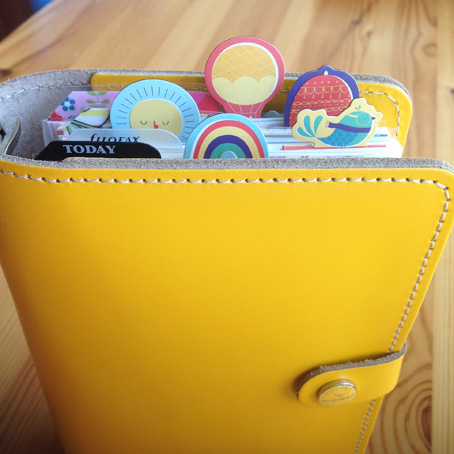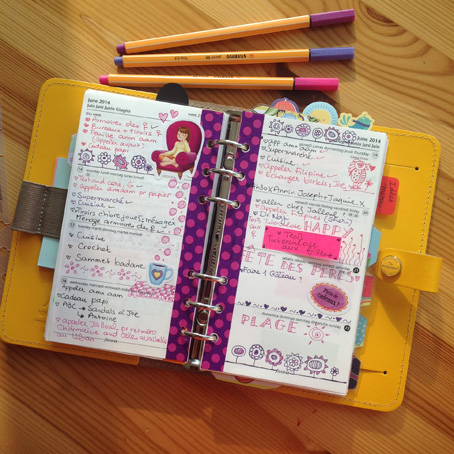 *Some pics of my planner. I am in love with this little filofax of mine. Its color, its shape, everything inside it makes my heart sing with joy… And I feel that I am more organised now that I am using it. Everythink is planned, my week is decorated and I feel calm just looking at it 🙂 Nurdy lady 😉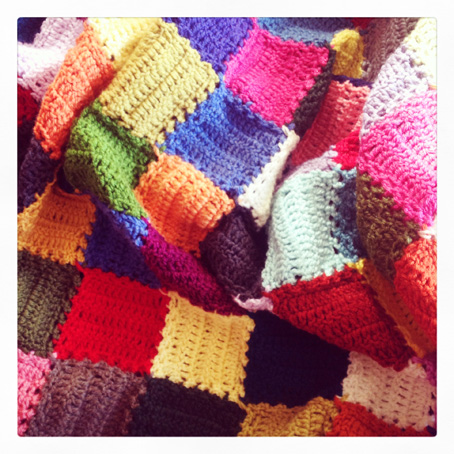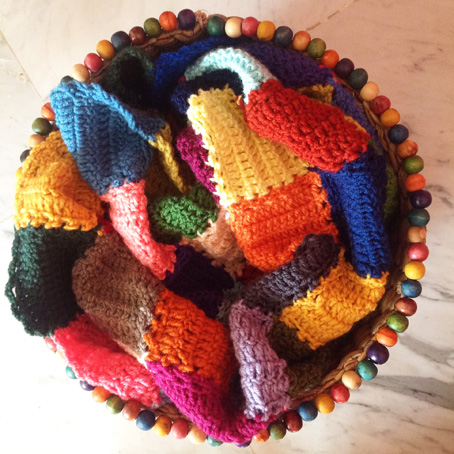 *and this last wip of mine. My crochet mood blanket 2014. I am up to date with it and find again a lot of joy crocheting each morning a square depending on my mood of the moment 🙂 There is not a lot of grey and dark colors… don't you think? 😉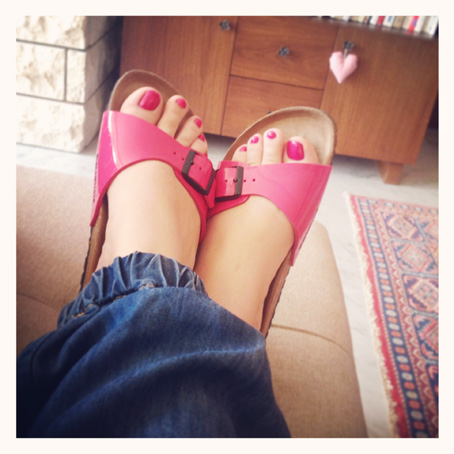 * My new comfy birkenstock. I love their color and painted my nails to match them 🙂
* And finally: My reason to live…My love… My life… My time consumers… My sun… My rainbow… My everything… My children…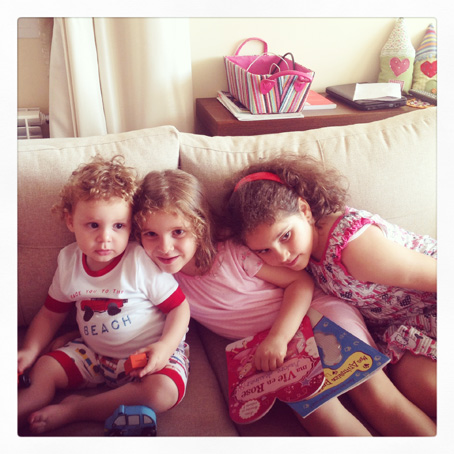 I'll leave you today with their picture. I just LOVE them so much and I am thankful every day and blessed for having them in my life…
Have a wonderful day my friends!
Kisses!
Sucrette