Good morning!
How are you? I am still very excited about the Crochet Mood blanket project and I'm very happy that many of you joined me 🙂 Welcome! We will surely have fun 😉
This is the first week of January …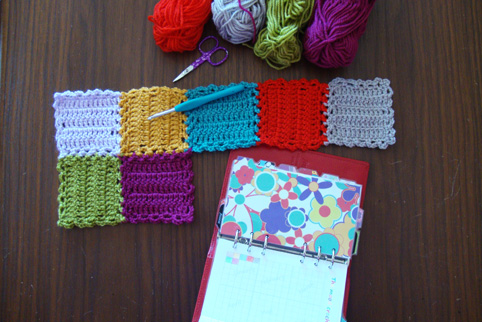 A week full of good and bad moods 🙁
January1: Light purple: Sleepy
January2: Yellow: Full of energy
January3: blue: Feeling blue and dreaming about the blue sea and vacations
January 4 and 5: Red and grey-beige: Angry and very sad about my country
January6: Green: Trying to stay positive and think about spring and green grass (drink plenty of green tea too ;))
January7: Purple: Feeling lonely and alone (the children are back to school) and trying to remain positive 🙂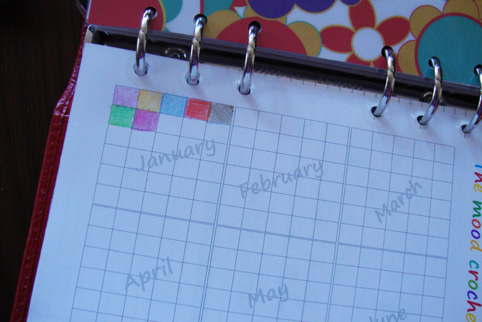 So that was my weekly moods so far… Please no more bombs and blood so this blanket will become a happy piece  🙂
We, sometimes, make our best to stay happy, calm and feeling good but it is not always possible 🙂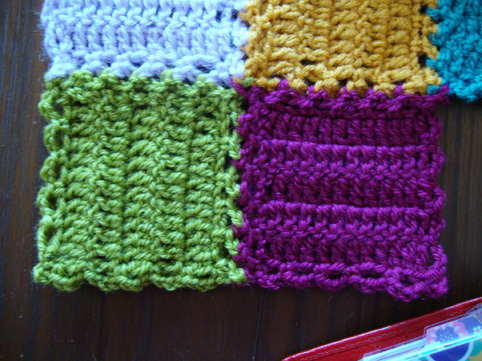 Some of you asked about the pattern of these simple squares. It is a chain of 12. Followed by 5 rows of 12dc each. And a last round all around the square of 1sc-3ch-1sc (and in the 4 corners too). This last round is for joining the squares together (like in the pic above)
Very simple…but I love it 🙂 It reminds me of patchwork quilts and there is something about them I cherish 🙂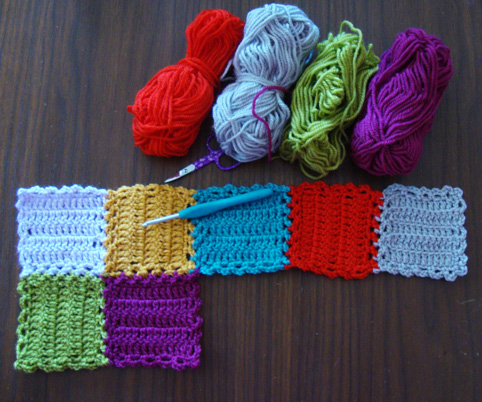 I'm still working on my poncho and I've made some real progress I will show you next time!
Until then please stay warm and safe, pray for peace, and remember to be thankful for the little things in life!
Love
Sucrette