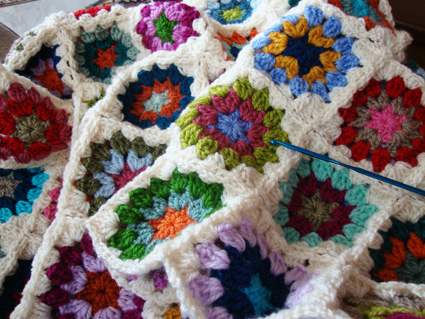 Good morning!
While I am sitting today in my favorite chair in front of the window drinking my coffee and joining some squares to My vintage blanket I was thinking about life, our life, our 2011 life…
It is strange how our hole life has changed since the invention of the internet…
Do you think sometimes about it? How our grandmothers used to live and how we are living today? How..
with just one click I can go to your place…
with just one click I can knock to your door (and it is always open for me)…
with just one click I can be at your home, in your very own and personal environment …
with just one click I can watch your children grow…
with just one click I can see how you're spending your days…
with just one click I can take a look at your wips, get some inspiration and dream…
with just one click I can feel that you are sad or happy…
with just one click I can feel that you're in love or in a very very bad mood…
with just one click I can leave you a sweet message to brighten up your day, tell you that I am thinking of you, that I admire your work, I feel your pain or joy or just tell you : Hello!…
with just one click I'll be with you while it is still 10.00 a.m here and it's maybe in the middle of the night there, where you are, in the other part of the world…
with just one click we can be together wherever we are…
with just one click I can send you kisses, warm thoughts and hugs…
with just one click I can wish you a beautiful day, a wonderful evening, sunshine and colorful moments…
with just one click…
Sucrette