Good morning sweet people,
As you already guessed from the title of this post, the new cal (crochet-a-long) will be a poncho 🙂 Yes, an adult granny poncho.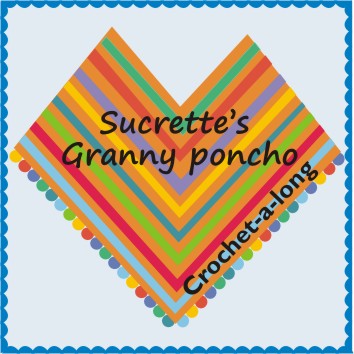 As we always crochet for the others, making blankets for all the members of the family and crocheted gifts for our friends, this project is totally selfish. For spring and autumn, a poncho is something special to wear…it makes you warm and happy for no reason 🙂
So, my sweeties, what do you think? Are you in? Are you totally thrilled by this project like myself? I think it will be awesome if once the ponchos are made, to set a particular day so we can all wear our ponchos 🙂 A "poncho day" for you sweet ladies around the world ! I just love this idea 😀
Let's set up now some rules, shall we? 😉
Rule1: Crochet a granny poncho for yourself. And if it is not your kind of clothing to wear, crochet a poncho for your child, your daughter, your mother or as a gift for a special friend.
Rule2: No date limit to finish the poncho. You can begin it and finish it whenever you want 🙂
Rule3: No special colors to use. It can be very colorful (like mine 😉 ) or crocheted with just one color or two…It is up to you!
Rule4: No special yarn to use also… You can crochet it with acrylic, wool, cotton or whatever you like.
Rule5: Pattern: HERE! It is a granny pattern, very simple and easy to follow. It is a graphic pattern but I tried, yesterday evening to add a small paragraph to it, to explain it with written directions… If you have any problem starting the poncho, don't hesitate to tell and I will help you. This pattern is totally addictive, you'll see 😉
If you want to see some crocheted ponchos with this pattern, go here!
So, these were the rules. Are you joining in this fun project? Come one! Let's spoil ourselves with a poncho! Let it be a selfish project and we will all encourage one another in creating this "happy piece of clothing" to wear on the grayest days 🙂
If you want to join, leave me a comment on this post or here in this flickr discussion or here in this ravelry discussion and tell me if it will be for you or for somebody else and what yarn you'll be using. Don't forget to post your blog address if you have one!
I created also a flickr group and a ravelry one so we can all share our pics and progress…
I am sooo happy already 🙂 Come on! Join in! It will be so much fun!
I'm waiting for youuuuuuuuuuuuuuuuuu!
Have a bright and colorful week!
Sucrette
P.S: – I'll post next time, the beginning of my poncho 🙂
– And please feel free to grab the buttons of Sucrette's granny poncho cal. for your blog or website:
For the large version to put in a post: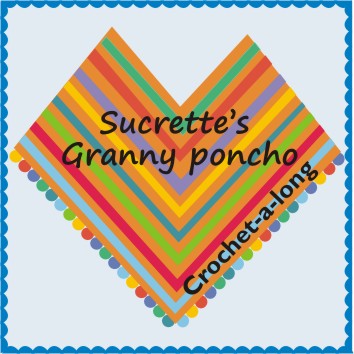 This is the html code:
<a href="http://www.lemondedesucrette.com"><img title="PONCHO'SCAL" src="http://www.lemondedesucrette.com/wp-content/uploads/2012/03/PONCHOSCAL1.jpg" alt="" width="354″ height="354″ /></a>
and for the smaller one to put in your blog's sidebar: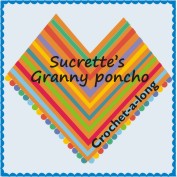 This is the html code:
<a href="http://www.lemondedesucrette.com"><img title="Sucrette's granny poncho cal" src="http://www.lemondedesucrette.com/wp-content/uploads/2012/03/Sucrettes-granny-poncho-cal1.jpg" alt="" width="177″ height="177″ /></a>