Hello, hello, hello!
Well well well, I laughed and I laughed reading your comments 🙂 It seems we have all the same problem with yarn and left behind wips and boxes and bags too 🙂 hehehe
So, my sweet friends, I'm gonna open today THE BOX 🙂 Are you reaaaaaadyyyyyyyyyy?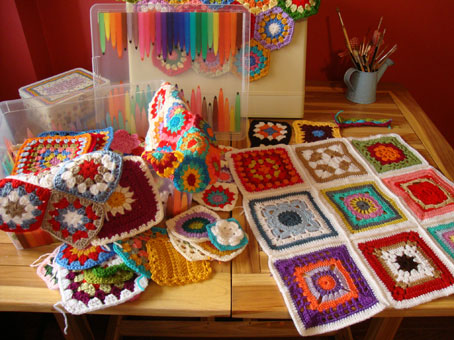 As you noticed, the box is full of all sorts of projects, blocks I loved and wanted to keep for future reference, wips left-behind for no particular reason… getting bored I think is the main reason for leaving a wip…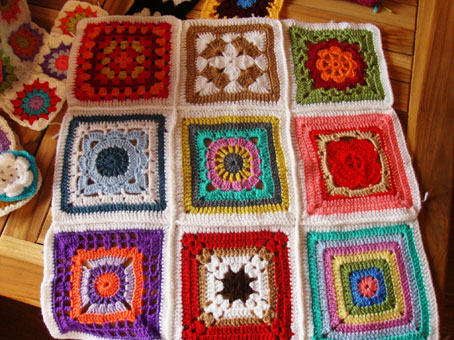 This was me trying some blocks from: "200 crochet blocks" (You can find this book in the left sidebar of the blog)… I wanted to make a blanket but I did not like at all the result…It was a sort of "BEUUURKKK!" thing with all these "unmatched" colors …but because I hate to unravel anything I kept it! The blocks are lovely…each and every one alone without the others 😉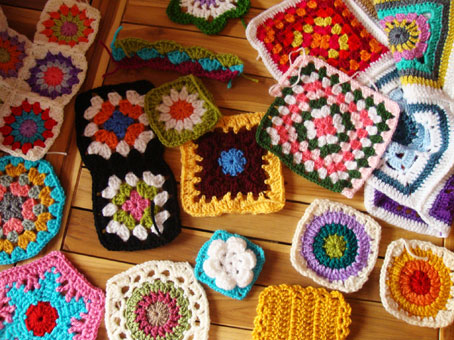 This pic has different kind of blanket blocks… with different combinations of colors I was trying… and new stitches too …etc etc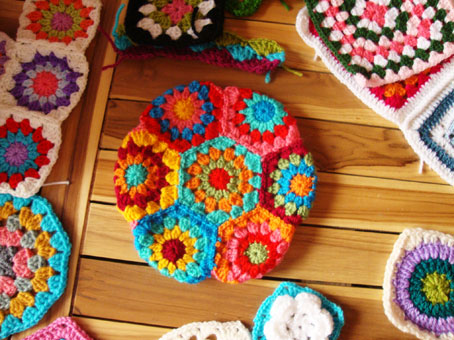 This … (some of you asked me about these hexagons) …this is supposed to be a turtle 🙂 Yes a turtle for my girl's room door… I don't know why I did not finish it… I wanted to make a small round cushion stuffed with small stones and sand and sew this hexagonal thing on it…then make a head and 4 legs…very simple… and very cute… I really should finish it and make a tuto for it too 🙂 It will be fun! Colorful, hexagonal turtles for the house !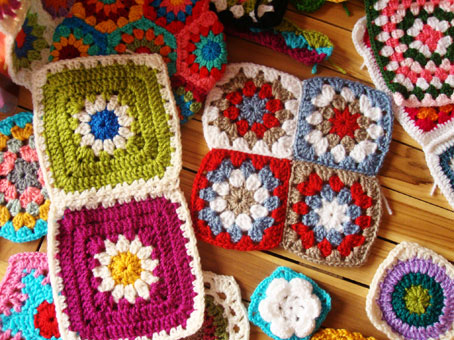 This (the one on the left, the two big squares joined together) was supposed to be a BIIIG blanket for our bed … I don't remember why I stopped it … I must have been at the time not-in-the-mood-for-big-projects 😉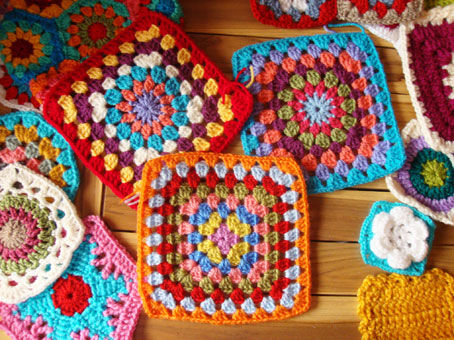 Granny squares, Oh how I love granny squares! Different color combo and different first rounds too… trials trials that never led to something 🙂 but sometimes, you crochet little things just for fun…without any particular goal… don't you agree?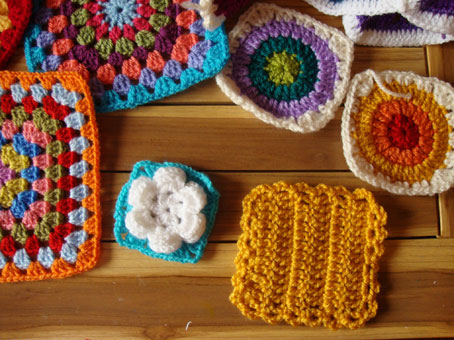 Different blocks to keep for future lack of inspiration…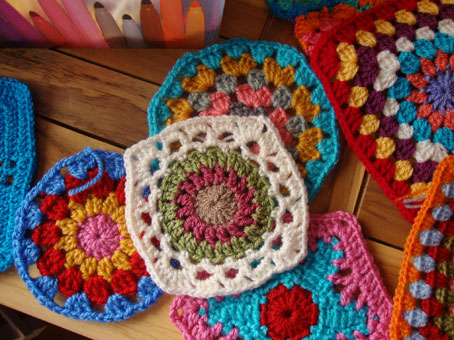 Some of them are my own creation (like the one with a white border up)… some not… but all of them are loved and kept like a treasure in THE BOX … 🙂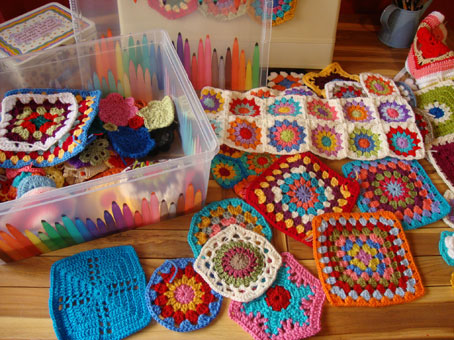 Now, I know, what project to pick… will tell you all about it next time 😉
Hope you enjoyed THE BOX 🙂
Have a beautiful day!
Sucrette