Hello happy people!
How are you? Is it spring already in your part of the world or not yet? Is it still grey and rainy?
In my country spring is already here: sunshine, blue sky, perfect weather 🙂
I started this week a new project: yes, another blanket like you guessed from the title of this post…
It was like a huge need to start it…like I could not resist…and I could not wait finishing other wips before… I had to pick colours and start it…does it happens to you? this huge excitement for starting a project and you could not think of something else rather than holding the hook? ohhh my…
I decided to use all my scraps of yarn…all my leftover little bits and bigger bits of yarn…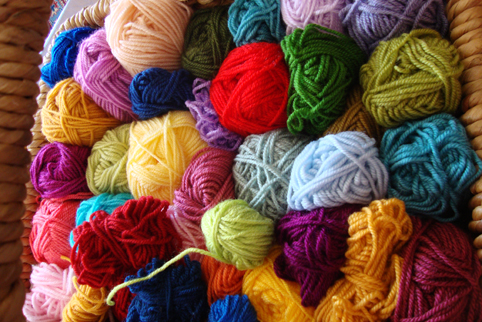 and there is a lot of colours in my stash…some are tiny balls that make only one round and some are bigger…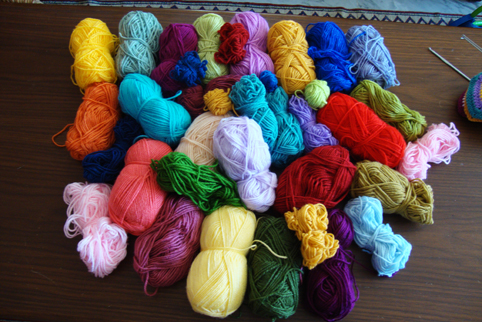 Oh how I love colorful yarn like that!
I must confess something: My favorite colour these days is yellow-mustard a colour I used to hate when younger…now it is my favorite and I am using it a lot in this project…People change 😉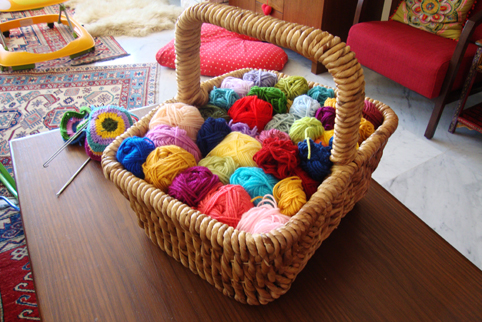 So, I had to start a project that I can easily crochet during hot days…
and making separate squares is not something heavy you have to carry on your lap..
so it had to be squares…squares that I will join later…maybe in autumn… I will not think about the joining method nor the colour now even though yellow-mustard joining is on my mind 🙂 hahaha
Wanna see the squares?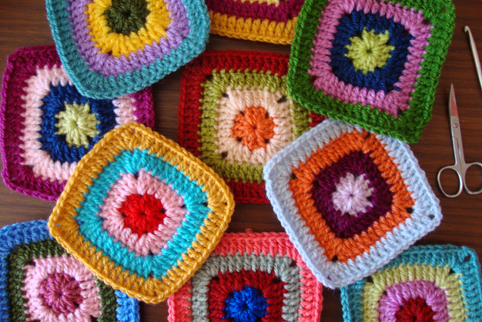 Oh! oh! oh! These are happy squares aren't they?
I am really really enjoying crocheting each square and taking a lot of pleasure in choosing 4 colours for each one 🙂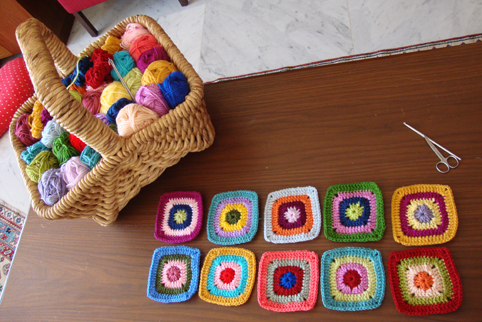 This is the kind of projects that makes my heart beats faster 🙂 boum boum boum 🙂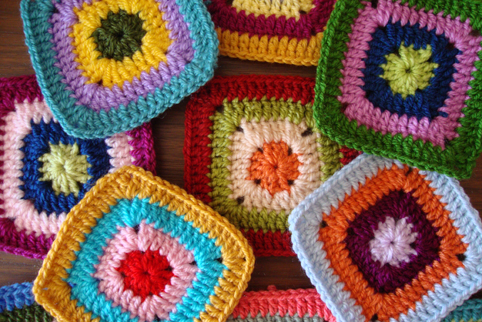 It will be a happy blanket I am sure 🙂
Sending happy thoughts your way…
and wishing you a very happy weekend!
Sucrette
P.S: For the squares I am using this classic pattern but with a small change: I am making 2tr, 2ch, 2tr in each corner instead of 2tr, 1ch, 2tr like on the graph 😉
Each square is made with 4 rounds, each round crocheted with a different colour 😉