Hello,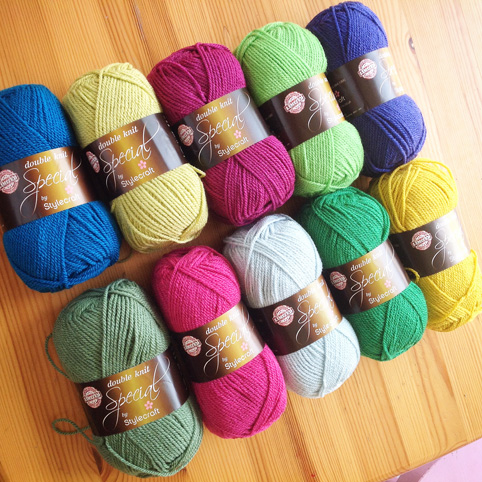 This little blog of mine was very lucky to be picked up between the blogs that are part of the Stylecraft blog tour. Do you remember the competition that Stylecraft held to add a new colour to their range? Well they made a pack of 10x50g of beautiful colours (the 10 finalists of the competition) and decided to send it for free for crochet and knitting bloggers around the world to try out the new colors….
I am very excited and very happy today to show you what I did with these wonderful colors…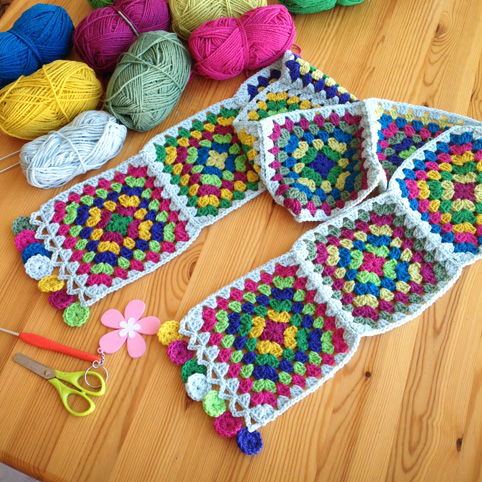 A scarf… a granny scarf in these beautiful DK shades… Do you like it?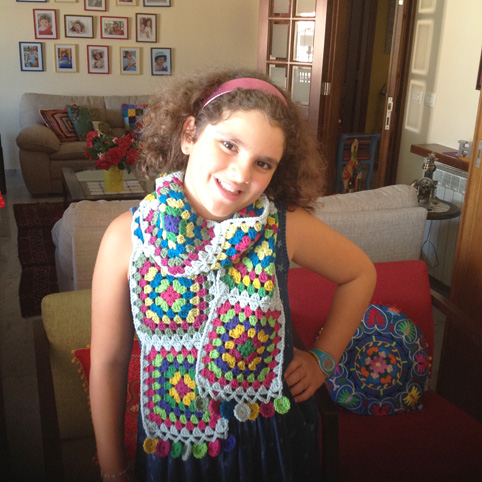 I did it for my oldest daughter and now my youngest wants one 🙂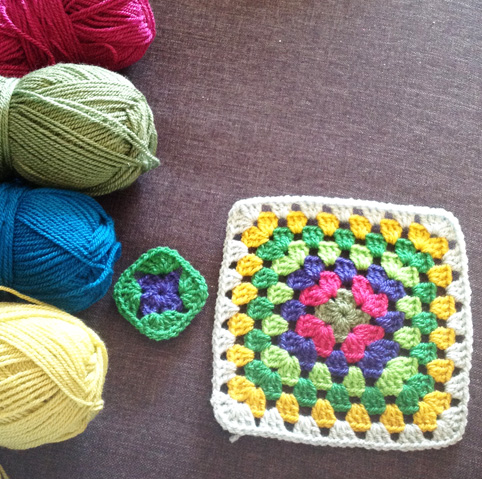 I am a granny squares lover and with a pack of 10 x 50g I was not sure I could make a blanket so I made granny squares and turned them into a scarft 🙂 Simple but simple is the best ♥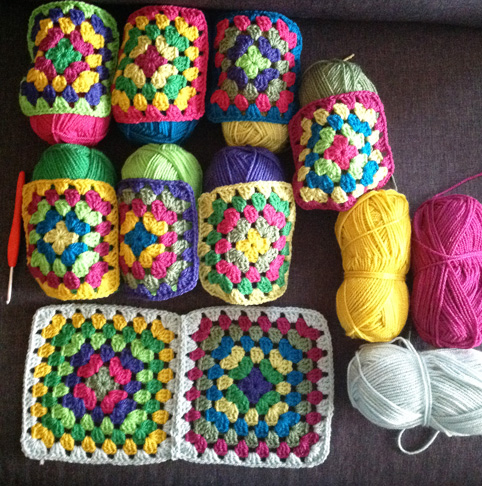 I left the egg blue aside for the joining (the winner) and made one granny round with each of the 9 other shades. and then round two with each of the 9 left shades and then round 3 etc etc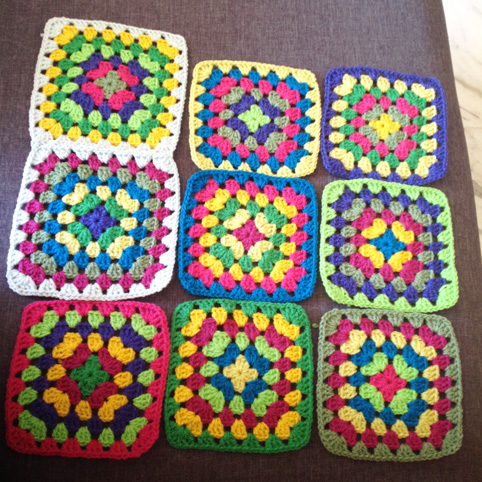 At the end I've had 9 "unique" squares of 6 rounds each 🙂 and I joined them as I go with a last round in the egg blue 🙂
For the square's pattern, click HERE ♥
and for the joining method, click HERE ♥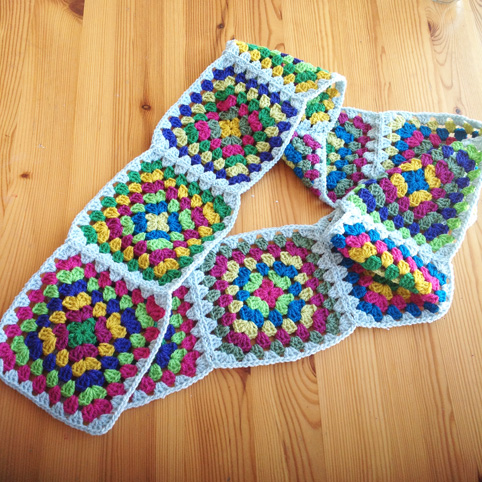 Once joined together, I found that the scarft was a little bit short if turned two times around the neck so I've made a 10th square and joined it to the others 🙂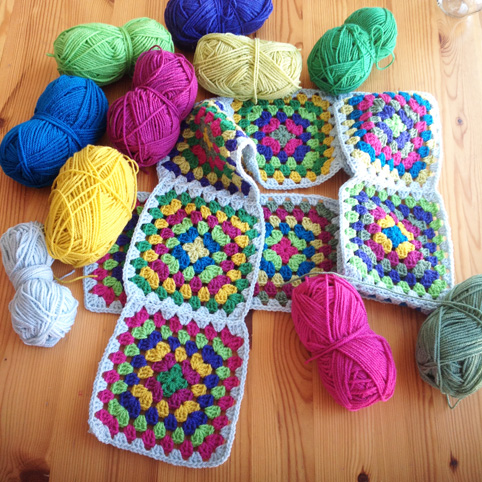 So, my scarft was made finally with 10 squares (of 7 rounds each) joined together with the 7th round in blue.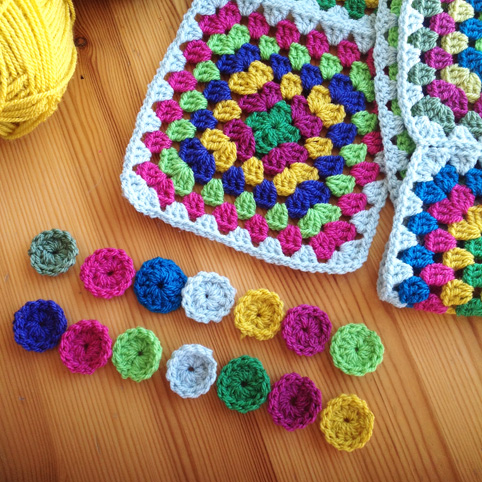 Then I made 14 little circles. To make a circle I crocheted 12 tr in a circle of 4 chain.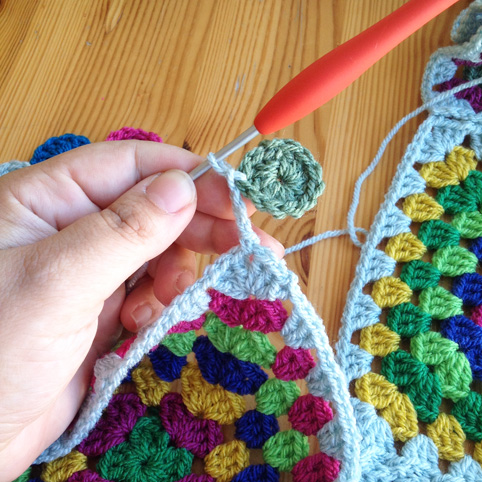 And with the joining color I added these little circles to the scarf. I crocheted 1sc, 5 ch then added the first circle to the chain with a slip stitch then 5 ch, then 1sc (on the scarf)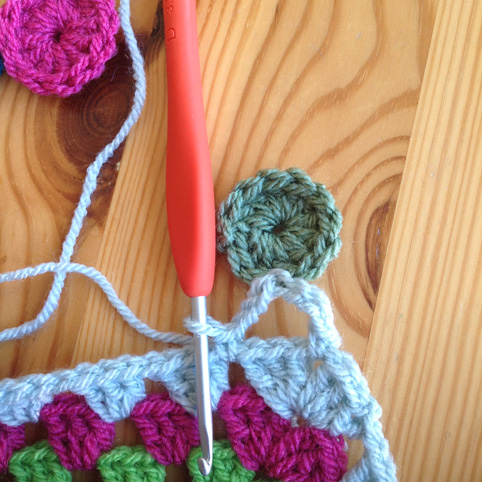 then 5 ch, then the second circle, then 5ch, 1sc etc etc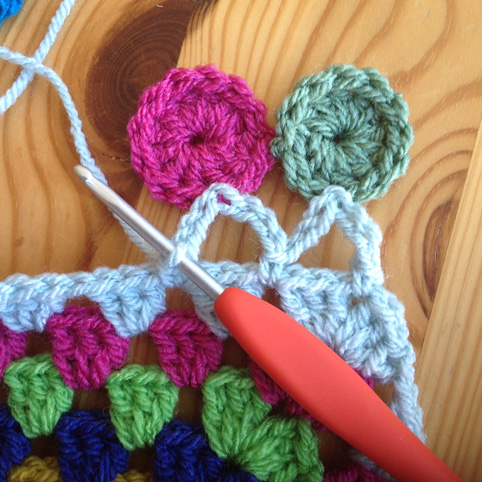 and I added 7 little circles to one side of the scarf…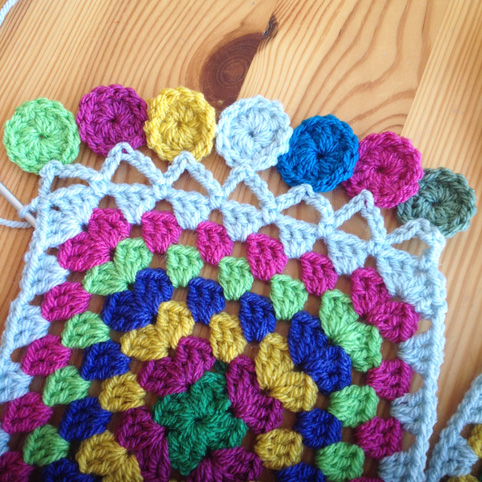 and the other 7 to the other side of the scarf…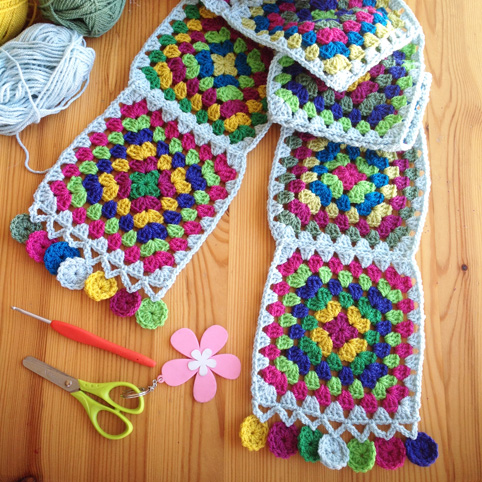 and it was done 😉 My daughter loves it and so do I 🙂 Now, I have to make a second one for my youngest girl 🙂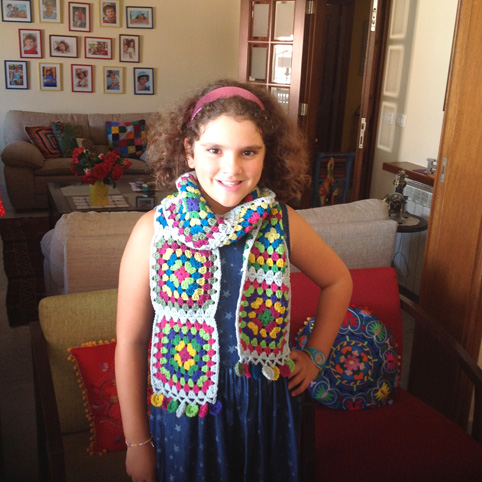 These new colors are simply fantastic. I felt in love with them as soon as I saw them (specially the mustard yellow one so warm and beautiful ♥) and you know what? You can win your own pack! Yes your own pack of these beauties!! Because my friend there is a GIVEAWAY of this pack during each day of the blog tour and a pack to win EACH DAY! ISN'T THIS FABULOUS???
And today on Le monde de Sucrette you can win your own pack if you click HERE ♥
The draw is open for Le monde de Sucrette's readers today October 1 from 10.00 am (UK time) and will last for the whole day. The winner will be annouced tomorrow! GOOD LUCK!
And don't forget to visit tomorrow morning the beautiful blog of Julia to see what she did with her pack and have another chance to win your own 🙂
Thank you lovelies for your visit today ♥ and thank you Stylecraft for holding this blog tour and having this wonderful range of yarns that makes us very happy ♥
Wishing you a wonderful day ♥
Kisses
Sucrette