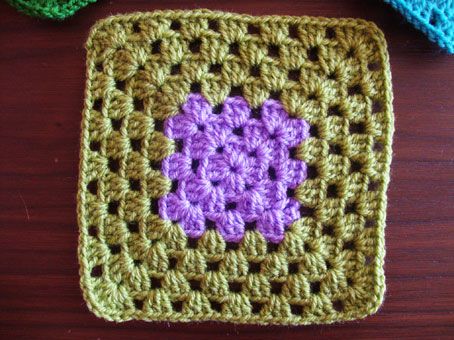 Good morning sweet friends,
How was your weekend? Hope that it was a little less cold in your part of the world…Here it was sunshine with a good 18 celcius d. so yesterday the girls played outside and had so much fun after weeks of gray and rainy days stucked indoors 🙂 Sunshine again…yes spring is not so far anymore …
I've made more squares for my Love Birds blanket…I'm getting a little bored from this square 🙁 …so I must work on something else in parallell if I want to be able to finish it …yes 121 squares is something huge and I can not work it without crocheting another wip at the same time… for the distraction 😉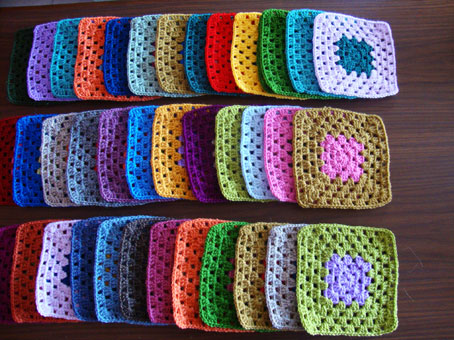 Some of you asked me how I begin a new row when I don't want to change the color and cut the thread… Well I've made a small graphic for you to understand this small trick…it is so easy …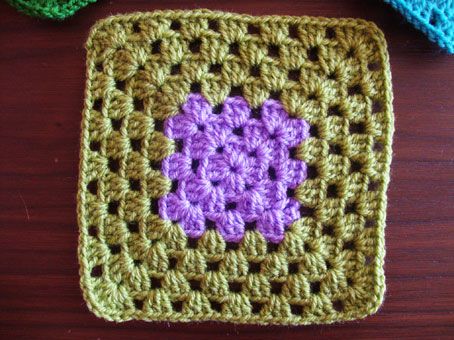 Here is the graphic of the traditional granny square I'm making for Love Birds (the first 4 rounds):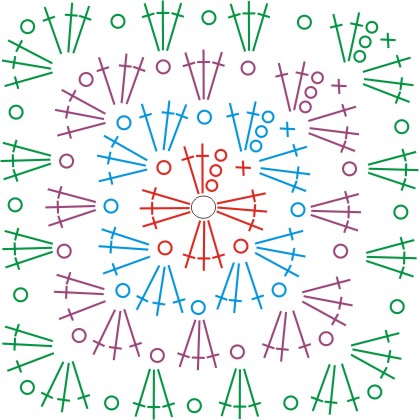 and here are the symbols used:

As you can see in the graphic, you have to close each round with a sc (U.S)  instead of crocheting one ch and a slip stitch. With this sc, you'll be able to stay in the corner ( hope you're understanding what I mean 🙂 ) and begin a new round with 3ch instead of the first dc (U.S) !
For each Love birds square, I crocheted the first 3 rounds with one color and then the next four rounds in another color…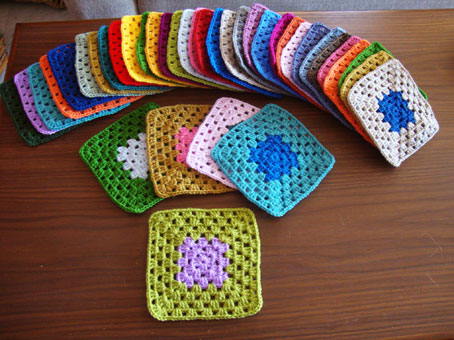 and round8 with the lovely turquoise color (I'm so in love with this color, thank you so much for all your kind comments concerning my joining colors…now, thanks to you, the turquoise is surely a winner 🙂 ) and then I'll join my squares with a line of sc (U.S) with the darker turquoise ! (You can see a small sample of the result in this previous post)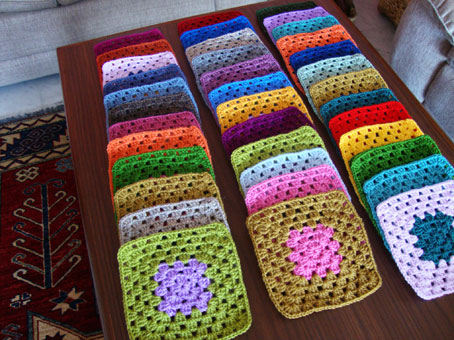 So, my sweeties, this is it! I have now to find a new wip so I can work on more than one project…yes, I am not a monogamous woman (is that an english word or translator is giving me wrong translations?????) I can never stick on one project at a time …
Have to leave you now… and go see my box-of-left-behind-wips 😉
Have a wonderful week!
Sucrette
P.S: Thank you so much Olga, Heidi, Carol and Cynthia  for the versatile Blogger award! That is really sweet from you 🙂 THANK YOU !