Good morning sweeties!
When I went yarn shopping 2 days ago I was singing in the rain 🙂 Yes, it was raining and the sky was dark grey but I had sunshine in my heart and I was sooo joyful! I think one of my best things to do is yarn shopping and I know that I am not alone 😉
So, I chose some yarn to add to my "Stripes of Love", my Husband's blanket…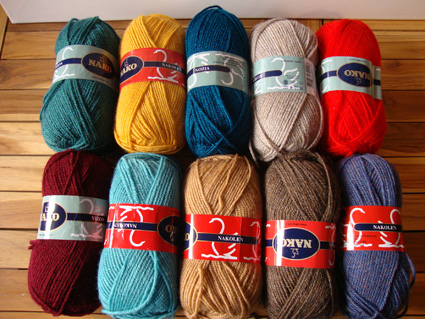 Yes, I know, not my-kind-of-colors … but I like them… and they will be great when added to the blanket…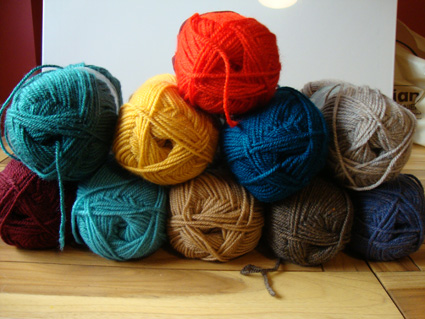 and I chose some more yarn so I can start a ripple and join the ripple along held by Lucy and Heather !
I don't know yet when I'll begin my ripple…I have two blankets on the go, you know, and this ripple will be my third blanket on the go :S but I could not resist… (who could?)
So I bought some yummy yarn in delicious colors 🙂
Here they are: 15 colors so far:
dark green – very light green – red – blue – orange – leaf green – light salmon
very light blue – dark red – yellow mustard – deep pink – light turquoise – dark mauve – green – purple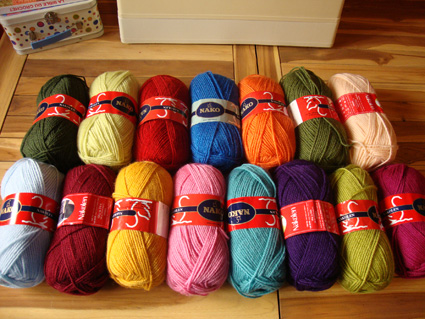 Don't know yet if I'll use them all and if I'll add some more colors or no….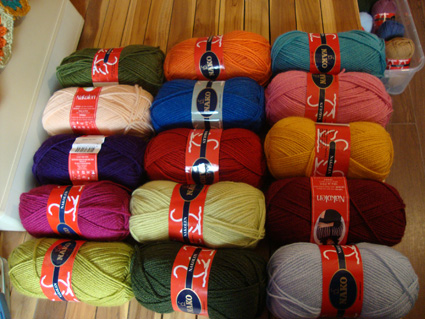 but I looooooooove them! The colors are really really beautiful in "live"…
The yarn is called Nako Nakolen. It is a 50% wool 50% acrylic blend….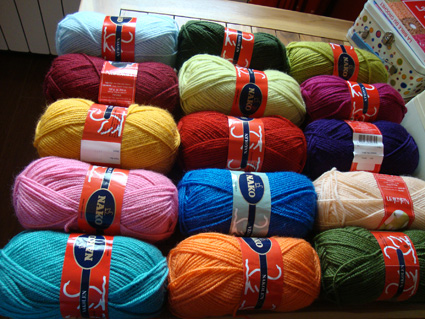 Very soft and so perfect to crochet with… I keep opening the box, touching the yarn, dreaming and closing the box 🙂 (crazy crazy crazy crazy)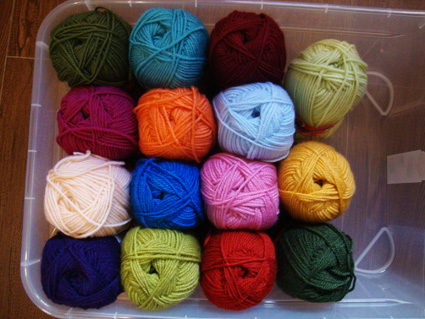 My hand is itching and I don't know yet when my resistance will fail and I'll finally begin my "Ripples of happiness" (This is how I'm gonna call this blanket to be)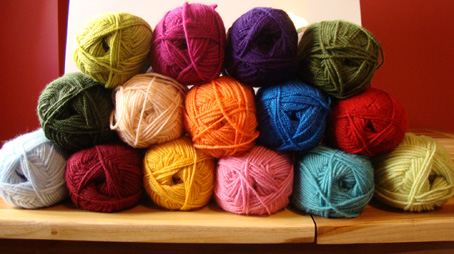 So, I'm going right right now to join the ripple along! There is a flickr group here ! Come on, join me there! It will be a lovely experience 🙂
Have a terrific day!
P.S: My blooming flower cushion is done so a tadaaaa post is coming very soon….Stay tuned 😉
Sucrette