Hello!
Thank you so much for your great response about the new shawl I'm crocheting at the moment!
It is a pure pleasure to make and I feel like it's gonna be gorgeous!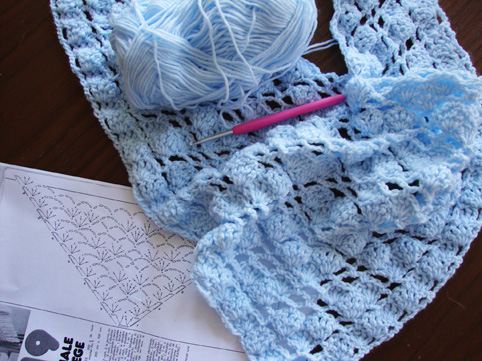 This is as promised its diagram…
Sorry if I'm posting just a diagram for this as I don't know how to explain patterns with words and I know that many of you keep asking me about written patterns…I really should learn how to do this stuff 😉 One day…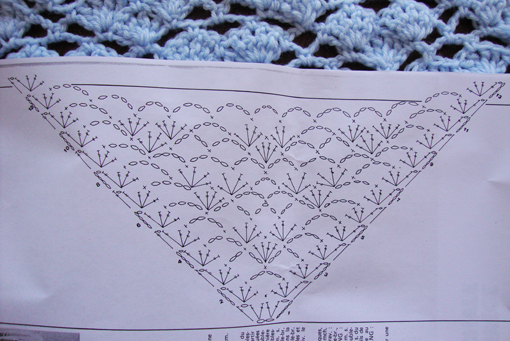 The diagram is made of
– double tr (U.K terms) or tr (U.S terms) ou double brides (French terms)
– dc (U.K) or sc (U.S) ou maille serrees (French)
– chain stitch ou maille en l'air (French)
and you begin it from the bottom of the shawl.
I hope that the diagram is clear for you my friend…
For this shawl, I'm using a super soft yarn called Nako baby. It is a 50%acrylic 50%polyamid yarn and I'm crocheting it with a 3.75mm crochet hook.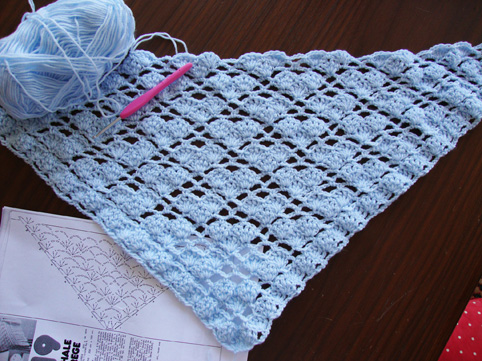 Have to go now…
If you'll be making this beautiful shawl, please do tell me cause it makes me very very happy to know that you are crocheting along with me 🙂
Kisses from the bottom of my heart!
Sucrette
P.S: I have some sort of spammy stuff on the blog with links everywhere and open windows that leeds you to nowhere…when this happens please try to click on the "to back" button so you can view the post. I'm trying to fix all these problems with hubby asap and asking for your patience… so sorry about that!